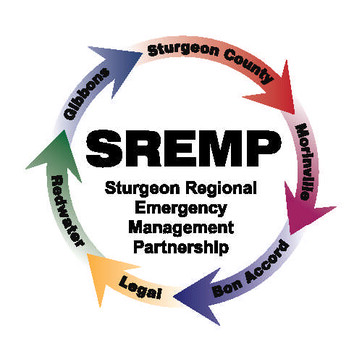 Emergency Preparedness
Gibbons along with Redwater, Legal, Morinville, Bon Accord and Sturgeon County have cooperatively developed Sturgeon Regional Emergency Management Plan (SREMP) with the support and approval from the Minister of Municipal Affairs.
SREMP promotes increased co-ordination, co-operation, collaboration, capacity, and integration by all six member municipalities and the province during all phases pf emergency management: planning and preparedness, response, recovery and mitigation. The Plan also enhances emergency preparedness, public education, and common public messaging for each of the key hazards the region may face and will strengthen regional information sharing, communications, and joint planning, training, and exercises.  Click on the logo to be directed to the SREMP website.
Are you prepared in case of an emergency or disaster? Check out the SREMP Emergency Action Guide.
In an emergency, the Town, partners with the Fire Department to maintain a comprehensive Emergency Management Plan and emergency siren alarm system;
One Alarm:
Assistance is required.  If available, report to the Fire Hall at the corner of 50th Avenue and 49th Street.
Three Alarms:
The situation is all clear, report back to the Fire Hall.
Continuous Alarm:
This alarm will be continuous for one minute and silent for one minute, then repeated.  This means a natural disaster.  Please listen for information to be given via loud hailer, if time permits.  Announcements may also be delivered over the Alberta Emergency Public Warning System on local television and radio stations or you can check their website.