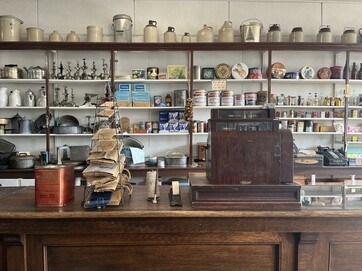 Summer 2023
The Gibbons Museum will be open from June 12 to August 18 this summer! Join us to learn about local history and have some fun! We have some fun programming and events planned so keep an eye on this site and our Facebook page for details and updates.
Our summer programs will start in July! Scroll down on this page to see our program schedule and posters.
2023 marks the Gibbons Museum's 40th Anniversary! We will have special anniversary displays in Reverend Roberts House and will be hosting an anniversary celebration on Saturday June 17. See the poster below for more details.
The Gibbons Museum is now closed. We look forward to seeing you next summer! For Museum-related inquiries during the off-season, you can contact Community Services at 780-923-2374 to chat with a member of Town of Gibbons staff. 
Summer 2023 Museum Hours: 
Monday to Friday 9 am to 4 pm
Closed for lunch from 12 pm to 1 pm
Closed Statutory Holidays
Location:
4709 48 Ave Gibbons, Alberta
Contact Us: 
Phone: 780-233-7300
Email: museum@gibbons.ca