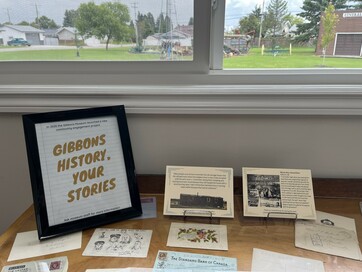 Gibbons History, Your Stories
In 2023, the Gibbons Museum launched a new community engagement initiative called Gibbons History, Your Stories. The goals of this project are: 
for the museum to form better connections with the community, 
to get the community more involved with the museum, 
and to bring more personal stories to the museum.
We are looking for submissions of short personal, or family, stories and memories of a place, person, or event in Gibbons' history. We are looking for the submission to be accompanied by a photograph. The Museum will be taking these memories and photos and creating postcards which will be displayed in the Museum. With permission they will also be shared on our Facebook Page. 
Stories/memories can be submitted anonymously, by first name only, or by full name. The names given will appear on the postcard and Facebook Post. Submissions can be made by email (museum@gibbons.ca), a direct message to our Facebook, or in person at the Museum. Some submissions may have to be edited for length by museum staff. Staff will seek approval from submittant for any changes made before displaying and sharing the story.
Submissions should include:
A personal story/memory short enough to be printed on a postcard
A photograph to accompany the story/memory
The name to be printed on the postcard or an expressed wish to remain anonymous
Permission or refusal for also sharing the story and photograph on the Museum's Facebook page
You can visit or call the Gibbons Museum if you have any questions! 780-233-7300