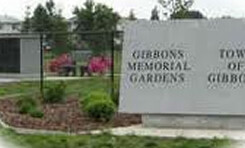 Established in 2005, Gibbons Memorial Gardens is a municipally operated Cemetery located at 4212-51 street.
Memorial Gardens hosts 225 Burial Plots and two columbariums with a total of 72 double niches and 24 single niches. 
Interment Choices
Memorial Gardens offers a variety of interment choices, including standard and deep interment, cremation interments or columbarium niches. Please contact the Town of Gibbons at 780.923.3331 for more information.