Sports and Recreation
Jack Hogg Sports Grounds
This sports ground is located directly north of the Gibbons Arena and is home to 3 shale ball diamonds, one full size soccer pitch, one mini soccer pitch and an outdoor rink. For information on booking the diamonds, please contact our Facility Coordinator by phone 780.923.3331 or via email.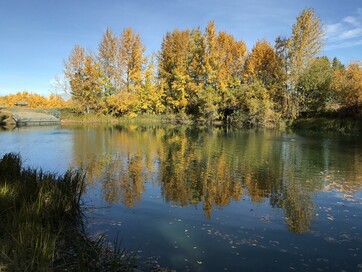 Echo Glen Fish Pond
Located in Echo Glen Park, the Fish Pond is stocked yearly with trout and is the home of the annual Kids Can Catch event held in July during Pioneer Days. Provincial regulations must be followed when fishing in the pond. Please consult the Alberta Guide to Sport Fishing Regulations for more information. 
**Currently CLOSED for upgrades** Click here for more info: https://www.gibbons.ca/town-hall/who-we-are/town-news/post/echo-glen-pond-enhancement-project
Poplar Park Spray Park
Located in Poplar Park, this Spray Park is the place to be on a hot summer afternoon! The park has automated timings for sprays and a change room and washroom area for the young ones.
The Spray Park is currently open 10:00 am to 7:00 pm. Please be sure to read and follow all COVID restrictions and guidelines here: Spray Park COVID Guidelines. Public washrooms will not be available at this time.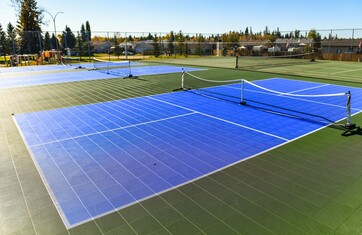 Gibbons Pickleball & Tennis Court
Also located in Poplar Park this area hosts three pickleball courts, one tennis court,  and a basketball court.
This first class golfing experience is just minutes north of Gibbons. "The Goose" was designed by Bill Robinson from Oregon and is an 18 hole public championship course. It is a combination of Scottish and everglades architecture that twists and turns for 6700 yards through interlocking ponds. Challenge the Goose!
The days of the dinosaurs roar to life again in Jurrasic Forrest, a 40-acre prehistoric preserve, just minutes north of Gibbons and millions of years from the present! Gigantic, life-sized and startlingly realistic, these dinosaurs live and breathe in Jurrasic Forest, and they're waiting for you.